When was the last time you scheduled a foundation inspection for a Kansas City home? If it's been several years, it's time to make that call! Also, signs of a weak foundation under your home might alert you to a needed inspection.
However, many homeowners overlook signs of foundation damage around their property, often allowing cracks and leaks to get worse. On the other hand, a full-scale inspection allows you to arrange prompt repairs! To ensure you're keeping your property in good condition, check out warning signs that it's time for a foundation inspection.
Wall Cracks? Schedule a Kansas City Foundation Inspection!
A weak foundation allows a house to sink and settle into the ground. As it does, the structure pulls on solid surfaces inside and outside the home. Consequently, you might soon notice cracks along the interior and exterior walls.
Additionally, pulling on wall materials might result in gaps in room corners or damaged crown molding. Drywall might also pull away from wood framing, or drywall panels might separate from each other! In turn, schedule a foundation inspection in Kansas City as soon as you notice any of these issues along your home's walls.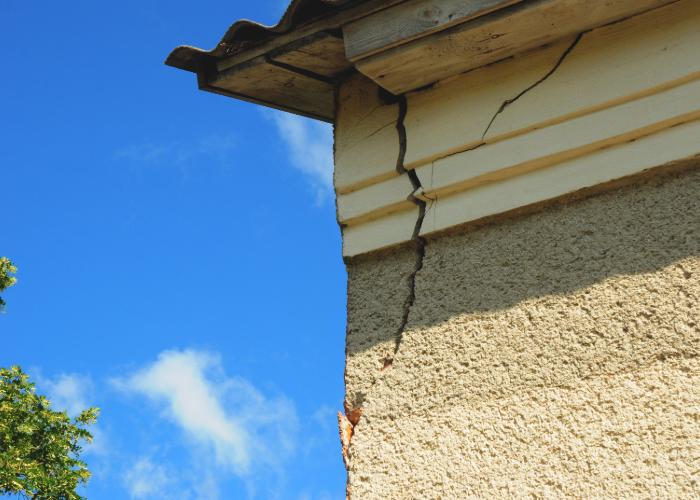 Don't Overlook Flooring Damage Under Your Feet
Along with cracked wall materials, a weak foundation might mean damaged floorboards. As a home settles, it pulls on the subflooring, risking cracks and other issues. Soon, you might hear squeaking, creaking, and groaning every time you walk across the room!
Additionally, those floorboards might feel soft under your feet. You might notice what feels like sinking areas of the floor or a "squishy" feeling. These issues can all signal a damaged foundation, so schedule an inspection in Kansas City if you notice flooring issues in your home.
Roofing and Plumbing Issues Might Indicate Foundation Damage
Homeowners rarely associate roofing and plumbing issues with residential foundation damage. However, a sinking home might pull on roof decking and plumbing pipes. In turn, the home might suffer roof leaks and cracks, and water leaks.
While roof and plumbing damage has many causes, don't overlook an unstable foundation. Also, a foundation inspection is especially vital if you've ruled out other causes of roof and plumbing leaks! Timely repairs can keep that damage from spreading and ensure a structurally stable home, from top to bottom.
Foundation Damage Often Means Crooked Door and Window Frames
Since damaged foundations in KC cannot support a home properly, door and window frames might move out of alignment. This shifting results in doors and windows that stick, and lock bolts that don't close easily. Additionally, doors might swing open or shut on their own!
Also, gaps often form around door and window frames. As a home's framing shifts out of position, studs that make up those frames also tend to sink. As a result, you might notice drafts in wintertime and warm, stuffy air during summer months.
Foundation Cracks and Leaks Often Mean Damp Interiors
Kansas City homeowners often assume that basements, laundry or utility rooms, and other spaces with concrete floors are naturally damp. This just isn't the case! Damp floors and especially standing water might mean foundation leaks. Those leaks let in moisture that collects along solid surfaces including concrete floors.
Trapped moisture can also risk mold, mildew, and musty smells. If you notice these issues in your home, don't assume they're normal, even for older homes. Instead, schedule a foundation inspection as soon as possible. Patching and leak repair help keep out that moisture while also strengthening foundation concrete.
Schedule a Kansas City Foundation Inspection for Older Properties
A home's foundation risks degrading over time. After many years, a structure's weight and moisture in the soil often damages concrete and piers and beams. In turn, it's vital you schedule foundation inspections the older your home gets!
Before you put off needed foundation inspections, note that quick foundation repair keeps those costs as low as possible. The longer you ignore cracks, leaks, and spalling, the more they spread. Consequently, inspections and needed fixes save you money over time.
Lastly, consider that foundation damage often affects property values. A property appraiser decides a home's value based on what buyers might pay for it. Since buyers often avoid homes with foundation cracks and leaks, these lower those values overall! In turn, it's vital that you keep a foundation in good condition, to protect your property's value.
Kansas City Foundation Repair Specialists is happy to provide this information about scheduling a foundation inspection in Kansas City. Hopefully you found it helpful! If so, please share it with family and friends. Also, if your home needs repairs, turn to our experienced Kansas City foundation repair contractors. We offer FREE inspections and fully warrantied work. To get your property started, give us a call today!